Identify problems before they happen
Having established an enviable track record as a result of our multi-industry experience, we often draw on the experiences from one industry and apply them in an innovative way in another, along the way setting industry firsts.

Our technicians have extensive experience and qualifications in providing inspection and training services. We offer a wide range of inspection solutions such as visual surveys, NDT, gas emissions surveys, weld inspection, foreign object retrievals, IRIS surveys of Heat Exchangers, ROV/UAV surveys, Thermography, Ultrasonic thickness surveys, PMI, Tank and Vessel Inspections.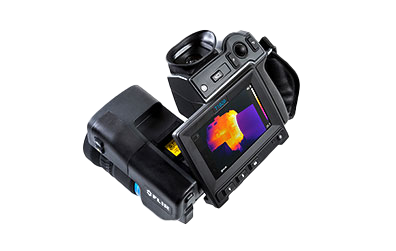 About
Born out of five decades of infrared expertise and a keen understanding of the expert thermographer's needs, FLIR T1K cameras redefine the limits of thermal imaging. T1K / T1020 Offering true HD resolution, precision lenses like no others on the market, and a responsive new graphical user interface, T1K / T1020 the T1010 and T1020 have the features you need to make your workday easier. The compact design, responsive user interface, and instant report generation make your workday easier and more productive
For the sharpest images, the truest temperatures, the most flexibility – the T1K is the ultimate result of five decades of infrared expertise. Exceptional measurement performance when you need the most accurate temperature measurements, from wide angle to telephoto allowing you take accurate measurements from 2x as far away, as well as continuous autofocus mode keeping pace with your movements ensuring crisp imaging always. The advanced OSX optical system ensures accurate measurements in extreme conditions and the unique optical path eliminates error from heat sources outside the field of view for outstanding image clarity.
The extraordinarily sensitive detector, enhanced by the processing power of UltraMax™ offering the best resolution of any FLIR hand-held camera with exceptional thermal sensitivity of < 0.02°C at +30°C - 2x better than the industry standard!
Product Features
IR sensor: 1024 × 768 (786,432 measurement pixels)

Thermal sensitivity/NETD: < 0.02°C at +30°C

Lens choices: 12°, 28°, 45°, 3x

Close-up Minimum focus distance: 0.2m (0.66 ft.) to 0.8m (2.13 ft.), depending upon the lens

Image frequency: 30 Hz

Spectral range: 7.5 - 14 µm 4.3" display 800 x 480 pixels

Auto orientation

Touch screen
UltraMax™: Unique super-resolution process quadruples pixel count, up to 3.1 MP

MSX®: Embosses visual details on full resolution thermal image, for clear text and location identification
Measure temperature ranges of 40 to +2000ºC

Accuracy: ±1°C (±1.8°F) or ±1% @25ºC for temperatures between 5ºC to 150ºC ±2°C (±3.6°F) or ±2% of reading @ 25ºC for temperatures up to 1200ºC

Measurement tools: 10 spotmeters, 5+5 areas (boxes, circles) with min./max./average

Emissivity correction: Variable from 0.01 to 1.0 or selected from materials list

Measurements correction: Emissivity, reflected temperature, relative humidity, atmospheric temperature, object distance, external IR window compensation

Colour palettes: Iron, Rainbow, Rainbow HC, White Hot, Black Hot, Arctic, Lava
Get in Touch
Contact our technical team for all enquiries. Our teams are here to help and ready to provide friendly advice on all aspects of inspection projects.
Get in Touch