Identify problems before they happen
Having established an enviable track record as a result of our multi-industry experience, we often draw on the experiences from one industry and apply them in an innovative way in another, along the way setting industry firsts.

Our technicians have extensive experience and qualifications in providing inspection and training services. We offer a wide range of inspection solutions such as visual surveys, NDT, gas emissions surveys, weld inspection, foreign object retrievals, IRIS surveys of Heat Exchangers, ROV/UAV surveys, Thermography, Ultrasonic thickness surveys, PMI, Tank and Vessel Inspections.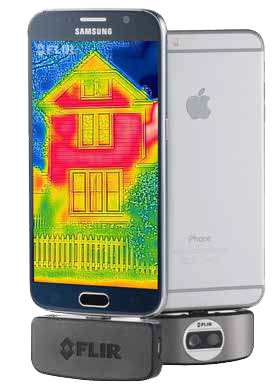 About
There's an invisible world right next to the one you see every day, just waiting for you to explore it with the FLIR ONE. Whether you're seeing the world in a whole new way or just finding problems around the house, FLIR ONE's thermal camera gives you a new view of your everyday world. Discover what's been around you all the time, with FLIR ONE. The FLIR ONE app requires sign in, which enables automatic warranty registration and access to all the latest updates from FLIR.
FLIR ONE detects invisible heat energy, giving consumers the ability to "see" and measure minute variances in temperature. FLIR ONE enables a host of practical solutions for consumers – from detecting energy leaks at home to seeing in complete darkness. For the first time, FLIR ONE brings powerful energy saving and situational awareness capabilities to a smart phone platform.
Home improvement: Homeowners can use the thermal camera to observe slight differences in temperature in buildings and structures that may indicate heat loss and, in turn, make adjustments to optimise energy efficiency. The device can also help locate ceiling joists, wall studs, leaking pipes, differentiate between hot and cold pipes, and spot overloaded circuits. It makes a range of home assessments, improvements and repairs much easier.
Outdoor adventures: For birders and hunters, this device lets you observe wildlife, day or night, with a low intrusion level. Campers can use it to navigate in the dark, detect when the day's catch is fully cooked, or make sure a campfire is out.
Security: With FLIR ONE's ability to see in the dark, people will have a powerful new tool to help them protect their homes and families. If something goes bump in the night, they can use the device to find out if someone's there and see what they're doing.
Safety: FLIR ONE can also help users cope with emergency conditions, giving them a picture of the situation, even in light fog and smoke. If there's a power outage, the device can help them safely find their way in the dark.
Creativity: FLIR ONE's thermal camera lets us see a hidden world of vibrant color and abstract pattern. Creative minds can turn the device's unique perspective into beautiful works of art, or use thermal images for inspiration.
Games: For big fun, gather friends for a round of nighttime hide-and-seek or a thermal scavenger hunt.
Product Features
Detect a broad range of temperatures

Spot temperature measurement display

Capture either photos or videos and share them via text, email, or social media through the FLIR ONE app

3.9 ounces minimal size and weight

Sleek presentation.

Rechargeable battery for up to four hours of continuous use.
Get in Touch
Contact our technical team for all enquiries. Our teams are here to help and ready to provide friendly advice on all aspects of inspection projects.
Get in Touch