Identify problems before they happen
Having established an enviable track record as a result of our multi-industry experience, we often draw on the experiences from one industry and apply them in an innovative way in another, along the way setting industry firsts.

Our technicians have extensive experience and qualifications in providing inspection and training services. We offer a wide range of inspection solutions such as visual surveys, NDT, gas emissions surveys, weld inspection, foreign object retrievals, IRIS surveys of Heat Exchangers, ROV/UAV surveys, Thermography, Ultrasonic thickness surveys, PMI, Tank and Vessel Inspections.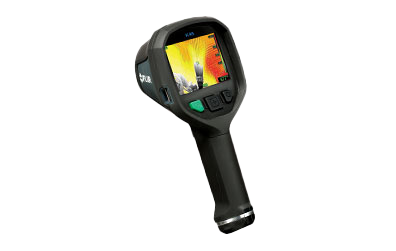 About
In the heat of the battle, a thermal imaging camera is indispensable – a vital tool that helps you quickly visualise your plan of attack, locate hot spots, and save lives. Ideally, every engine and truck company should have at least one high-performance TIC on hand. Since FLIR K-Series arrived on the scene, now that's more feasible. The K33 is a high-resolution thermal imaging no-brainer.
Affordable K-Series TICs offer new, easier ways to see more clearly in the darkest, smokiest environments by showing big, bright FLIR images to help you manoeuvre more strategically, stay better oriented, and find victims faster. With greater situational awareness, you'll improve safety and the likelihood of successful outcomes.
FLIR now offers the firefighting and rescue community the broadest cost-effective range of high performance TICs – part of our mission to help you stretch your budget and put more of these essential tools into the hands of those who could use them most.
FLIR K33 & K53
Streamlined High Performance Made Even More Economical FLIR now gives you two new lower-cost, easier-to-use options without sacrificing the reliable clarity and performance that FLIR K-Series TICs are well-known for. The K33 and K53 feature FLIR's FSX™ Flexible Scene Enhancement that intensifies structural and textural details in thermal images for better perspective and orientation to help improve situational awareness and give firefighters a greater sense of confidence and safety. The K33 and K53 are the cameras of choice when you're looking for high image quality without all the bells and whistles. Both power on ready to go so you can focus on the immediate challenges ahead. One glove-friendly on/off button quickly fires up the camera in TI-Basic mode An easy trigger pull freezes an image on the K33 or captures stills and video on the K53 Included 2-bay charging station makes it a cinch to stay prepared Uncompromising Resolution Higher-res thermal imaging that were once exclusive to FLIR Kx5 models are now available on the new, easy-to-use K33 and K53. Both include real-time FSX Flexible Scene Enhancement that intensifies detail for greater visibility.
FSX™ Flexible Scene Enhancement
(K45, K55, K65 only) FSX enhances K45, K55, and K65 thermal images through real-time digital processing inside the camera. The result is an ultra-sharp image that shows extraordinary structural, edge, and other instantly-recognisable detail. This helps make it much easier for firefighters and rescue teams to find their way through the smokiest, darkest environments, and to instantly identify targets in scenes with extreme temperature dynamics.
A Thermal Imaging Camera in Every Fire Truck FLIR develops and manufactures more thermal imaging cameras than any other company. Thanks to economies of scale, FLIR is able to offer K-Series at an extremely affordable price.
The K-Series is designed to meet tough operating conditions. It withstands a drop from 2 meters onto a concrete floor, is water resistant (IP67) and fully operating up to +260°C/+500°F for 5 minutes.
Even with Gloves On An intuitive and simple user interface allows you to focus on the job at hand. FLIR K45, K55, and K65 cameras FLIR K45, K55, and K65 cameras can be controlled by 3 large buttons ideal for a gloved firefighter's hand.
Thermal images can be stored in the FLIR K-Series onboard archive (K45, K55, K65 only) and later be used to produce simple reports of what happened at the scene.
Product Features
K33's 240 × 180 thermal imaging matches the resolution of the K45

K53's 320 × 240 resolution equals the image quality of the K55 and K65

Bright 4" LCD shows smooth 60Hz thermal video that keeps up with the action

Affordability is redefined with the K33 and K53

The new K53's 320 × 240 higher performance is an extraordinary value

2-5-10 Warranty covers the battery for 2 years, parts and labor for 5, and detector for 10

FLIR K-Series Featuring the NFPA®-Compliant K65

Clear and Crisp Thermal Images

The maintenance-free uncooled microbolometer sensor

Detail-rich images at 320 x 240 pixels (K55 & K65) and 240 x 180 pixels (K45)

Bright 4" LCD, helping you navigate easier and make more efficient, accurate decisions.
Get in Touch
Contact our technical team for all enquiries. Our teams are here to help and ready to provide friendly advice on all aspects of inspection projects.
Get in Touch