Identify problems before they happen
Having established an enviable track record as a result of our multi-industry experience, we often draw on the experiences from one industry and apply them in an innovative way in another, along the way setting industry firsts.

Our technicians have extensive experience and qualifications in providing inspection and training services. We offer a wide range of inspection solutions such as visual surveys, NDT, gas emissions surveys, weld inspection, foreign object retrievals, IRIS surveys of Heat Exchangers, ROV/UAV surveys, Thermography, Ultrasonic thickness surveys, PMI, Tank and Vessel Inspections.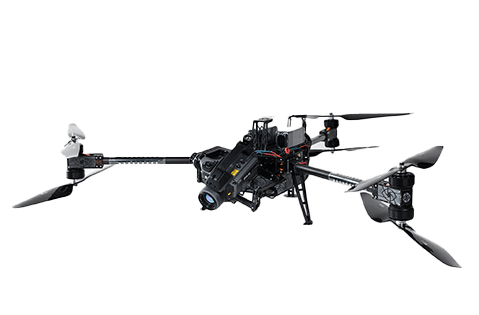 About
The Sky Eye Mammoth is the most powerful and versatile UAV model of the Sky Eye product range and the perfect tool for professionals working in various conditions. With world leading technology, the Mammoth is optimized and approved to carry FLIR SYSTEMS high-end thermal and gas imaging cameras.
Optimised for long flights and higher load capacity The Sky Eye Mammoth has an excellent load capacity and is able to fly dual cameras. You can fit both a thermal and a visual camera and fly them at the same time. To control the camera functions we have combined software and hardware in a way that gives unique control of advanced thermal and gas sensors without relying on infrastructures like 3/4G or Wi-Fi connectivity.
The Mammoth can carry a payload of 4,500 g (160 oz) and comes equipped with a powerful onboard computer. Intelligence Sensor and software integration allows you to control sensor output from the ground. Tethered System Tethered Power box with encrypted data transfer by Elistair solutions.
Product Features
Operating Height 2600m

Operating Temperature -30°C to +50°C

Operating Speed 15m/s Rate of Climb 6m/s

Maximum Thrust 40,000g (1,400oz)

Recommended GvW 14,500g (510oz)

Maximum Payload 4500g (160oz)

Diameter 138cm Height 34cm Width 28cm

Plug and Play High-end Sensors Thermal FLIR G-xx Series Thermal FLIR A-xx Series Thermal FLIR T-xx Series (excluding T1020 and T1030 Sc)

Visual High Resolution Camera Ready for post analysis Recording of radiometric data onto onboard computer

Full support of FLIR Tools, Tools+ and Research IR

Open Platform Open to interpretation

Versatile tool for research and science organisations

Robust Can withstand the harshest conditions and winds

Dust proof over pressured electronics chamber and filter system

Safe World leading parachute technology.
Get in Touch
Contact our technical team for all enquiries. Our teams are here to help and ready to provide friendly advice on all aspects of inspection projects.
Get in Touch