If you are looking to purchase the latest, high-quality visual inspection equipment then take a look below at some of the products that we stock, or get in touch with us today to discuss your requirements.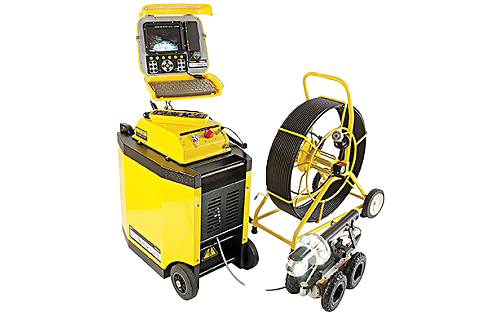 About
Weather-proofed surface equipment (IP53 rated), for outdoor use.
Downhole equipment capable of operating submerged (IP68 rated) to depth of 330' (100m).
Survey pipes from 1 ¼ "(35mm) to 24" (600mm) in diameter and above using pushrod and crawler systems from a single command module.
Compact and tough command module, can be left on the drum or fitted where convenient Ultra-bright 200mm (8") industrial grade TFT screen with anti-reflective protection, offers the best picture in most light conditions.
Integrated pushrod support, switch from crawler to pushrod operation directly from the command module with no need to move cables Optional built-in pushrod battery -no need for mains power when using a pushrod.
Digital zoom and picture navigation functions to explore the live video picture and focus on problematic areas. Full PAL/NTSC MPEG4 videos and snapshots onto USB Memory stick or Compact Flash card offer a convenient way to store and transfer your survey data.

Manual or self-contained powered drum systems, supports van/truck or remote operations. Cable length from 300' (100m) to 1000' (305m) - Pushrod length from 100'(30m) to 450' (150m). Comprehensive Reporting Options
Integrated reporting system allows the creation of HTML or xml reports- on- site without needing extra equipment.
FlexiSight Manager PC application manages systems surveys and produces detailed WRC MSCC 5 compliant reports, including pipe graphs and optional inclination analysis.
Ethernet interface to third party reporting applications. Downhole Power and Performance.
Choice of two powerful crawlers, constructed in brass and stainless steel and powered by a single or twin 50W motor.
Built in multi-frequency sonde and high accuracy inclinometer, to aid surveying and to pinpoint pipe location and depth.
Automatic anti-roll software features helps prevent the crawler from flipping over.
Choice of wheels and tires (rubber or abrasive) for use in different pipe conditions.

Choice of high resolution crawler or pushrod cameras, with ultra-bright, white LED technology for a long, maintenance-free life and high light performance.
Pan and Tilt and optical zoom (10x) cameras enable inspection of joints and laterals.
Skid and elevator accessories position the camera at the center of the pipe for inspection standard quality video surveying.
Lighthead accessories to provide extra light for inspecting larger pipes.
Product Features
Compact and tough command module, can be left on the drum or fitted where convenient.

IP53 weather proofed and light weight (as little as 12lbs)-(5.5kg).

Splashproof keyboard for text entry and on-site comprehensive reporting systems with XML and HTML output.

Intuitive tractor control options, compatible with third party USB gamepads.

USB 2.0 to transfer all the files quickly to a PC or laptop .

Bluetooth® wireless technology to send photos world-wide instantly (compatible cell phone and service provider required).

Rugged yet Flexible

Self-contained power drum offers automatic retrieval mode, with crawler-cable rewind synchronization for safer and easier operations.

Thermostatically controlled cooling systems for quiet operation.

Cost effective, compact, manual drum option available for space- constrained installations, represents an ideal entry level system.

Choice of cable lengths from 330'(100m) to 1000' (305m) with swivel-end tractor connection system provide system configurability and protection to the most vulnerable part of the cable.

Drum pendant remote control option facilitates easy system launch and retrieval.

Manhole and pipe roller accessories prevent unnecessary wear and damage to the cable.

On screen crawler roll and inclination indicator provide operators with real time information of the crawler angular position in the pipe.

Anti-roll software feature, automatically monitors the roll angle of the crawler and helps preventing flipping over.

Quick-release wheels and choice of rubber and abrasive tires enables fast set up and high pulling performance in most pipe conditions.

*Minimum specified diameter must be maintained along the whole length of the survey.

Flexiprobe pushrod support

One touch switch from crawler to pushrod operations, removes the need to move cables.

Supports full range of P340 flexiprobe pushrod reels and cameras to survey pipes from 1¼" (35mm).

Choice of different strength rods and lengths to suit domestic and commercial requirements.

1" (25mm) or 2" (50mm) cameras, with ultra-bright, white LED technology for a long, maintenance-free life and exceptional light performance.

Fixed or flexible 512Hz and 640Hz sondes to enable tracing of pipes and the pinpointing of problematic areas.

Skid Accessories to protect the camera and position the camera at the centre of the pipe to produce industry standard complaint video surveys.

Command module mounting support allows using the P350 command module mounted directly on the reel-its pivot action allows for optimal screen orientation.

Downhole Performance

356 steerable crawler for pipes from 6"(150mm) to 24"(600mm) in diameter*.

P354 non-steerable crawler allows access in a typical 12" (300mm) manhole and pipe surveys from 4" (100mm) to 12" (300mm) in diameter*.

Three high-definition crawler cameras: forward view, pan & tilt or pan & tilt with 10x optical zoom.

Ultra-bright LEDs for a long, maintenance-free life and exceptional light performance provide illumination for inspecting pipes up to 1m in diameter, and even greater in some pipe materials.

On screen Mimictm graphic display control and auto joint survey mode for easy pan & tilt operation.

FlexiSight Manager: survey management and reporting software

Can be used on Windows PCs and Laptops.

Import and manage flexitrax surveys - filter by date, customers or crews.

Edit videos, review or produce annotated pictures

Review, edit and create survey pipe defects observations (WRC MSSC5 complaint).

Optional pipe inclination module, enables quick pipe inclination analysis reports.

Review, edit and create custom survey reports as PDF or MS Word.
Get in Touch
Contact our technical team for all enquiries. Our teams are here to help and ready to provide friendly advice on all aspects of inspection projects.
Get in Touch