If you are looking to purchase the latest, high-quality visual inspection equipment then take a look below at some of the products that we stock, or get in touch with us today to discuss your requirements.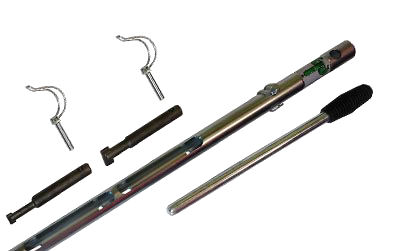 About
The current, traditional techniques of releasing stubborn manhole covers have been shown to have health and safety implications.
The ManUp Key provides a one-man solution to allow stuck manholes to be released without chiselling or hammering. Its patented slide hammer exerts a momentary upward force capable of releasing stuck, jammed and rusted chamber covers quickly and efficiently.
The Patented ManUp Key – A slide hammer action manhole releasing tool for freeing all manner of stuck manholes.
Product Features
32mm Flat Tip – 002F32
One of the most commonly used manhole key shapes world wide. Will fit most manholes that have a roughly 30mm sized keyhole.

22mm Flat Tip – 003F22
Designed to fit any manhole cover with a keyhole size of roughly 20mm.
12mm Threaded Tip – 004T12
Designed for use on access covers commonly found indoors that have threaded keyholes.

10mm Threaded Tip – 005T10


Safely retrieve foreign objects from inaccessible areas with the fork and tine FOSAR retrieval tool. Operating standalone or mounted to a video probe, these stainless steel instruments bend through twisting passages. 6mm OD.The fork and tine retrieval FOSAR tool is available in a 6mm outer diameter when closed and in lengths of 11.5 feet, 15 feet, 25 feet , 33 feet, 40 feet, or 50 feet.The plunger style handle controls the opening and closing of the fork and tine retrieval tool when removing foreign objects from small openings located in inaccessible areas.

10mm J Tip – 007J10
A 10mm 'J' shaped hook can be used on many different types of manholes, access covers and gulleys.

8mm J Tip – 006J08
A 8mm 'J' shaped hook can be used on many different types of manholes, access covers and gulleys.
Fire Hydrant Valve Key – 011HYD
The stop tap valve key, designed specifically for use with the ManUp Key's slide hammer action to stop the key getting stuck on valves.

31mm Oval Key – 008Ø30
The 30mm Oval tip, originally designed for use in the Australian market, will fit any manhole or access cover with a 31mm x 15mm oval shaped keyhole.
Get in Touch
Contact our technical team for all enquiries. Our teams are here to help and ready to provide friendly advice on all aspects of inspection projects.
Get in Touch