If you are looking to purchase the latest, high-quality visual inspection equipment then take a look below at some of the products that we stock, or get in touch with us today to discuss your requirements.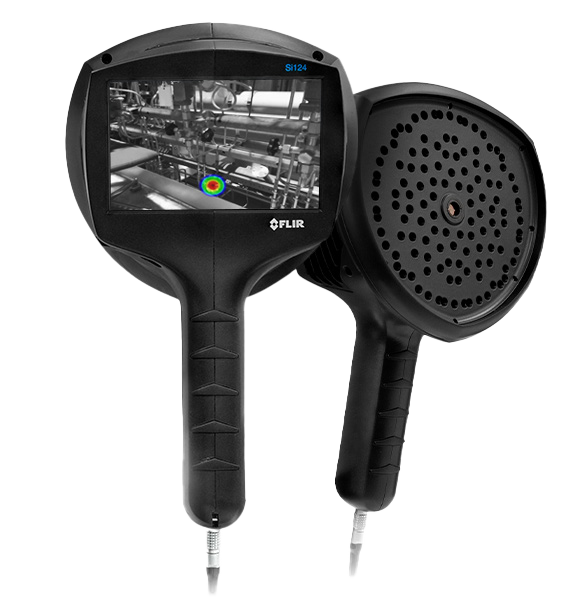 About
The FLIR Si124 is an easy-to-use, stand-alone system for locating pressurised leaks in compressed-air systems. This lightweight, one-handed solution is designed to help maintenance, manufacturing, and engineering professionals identify leaks up to 10 times faster than with traditional methods. Built with 124 microphones, the Si124 produces a precise acoustic image that visually displays ultrasonic information, even in loud industrial environments.
FIND LEAKS FASTER
Detect compressed air leaks up to 10 times faster with sound imaging vs. traditional methods
Quickly locate leaks and automatically upload, analyse, and classify problems to improve the reliability in production lines
Locate leaks precisely, even in loud industrial environments, thanks to high-resolution acoustic images and 124 built-in microphones
Instantly view the leak rate onscreen in real time (l/min or CFM)
REDUCE COSTS, SAVE MONEY
Delay the expense of installing new or additional compressors by maintaining existing ones
Ensure proper air pressure to pneumatic equipment to save on energy costs
Quantify leak size to understand how much energy was lost and the amount of money saved by discovering the problem
Optimise staff time, as minimal training is required to use Si124

INSPECT WITH EASE
Validate problems in real time
Classify problem severity instantly with this convenient, smart tool
Upload, store, and backup data; create reports; and conduct deep analysis using FLIR Acoustic Camera Viewer cloud analytics
Operate the lightweight camera with one hand, and easily review images on-screen even in bright, outdoor conditions
Product Features
Camera Size: 273 x 170 x 125 mm

Camera Weight: 980g

124 low-noise MEMS microphones, real-time sound visualisation

Distance: from 0.3m up to 100m

Leak rate: In typical industrial environment:

>0.032 l/min @ 3 bar from 3 m (9.8 ft)

>0.05 l/min @ 3 bar from 10 m (32.8 ft)

Absolute minimum detection

32GB internal storage
Get in Touch
Contact our technical team for all enquiries. Our teams are here to help and ready to provide friendly advice on all aspects of inspection projects.
Get in Touch