If you are looking to purchase the latest, high-quality visual inspection equipment then take a look below at some of the products that we stock, or get in touch with us today to discuss your requirements.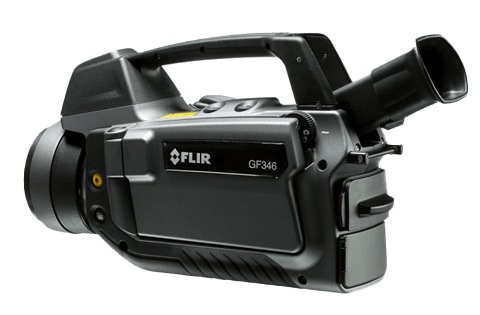 About
The FLIR GF346 is a revolutionary thermal imaging camera capable of finding carbon monoxide and a number of other gases and is unbeatable for detecting even the smallest leaks.
The FLIR GF346 offers a complete unique method of tracing leaks to their source by visualising this in a real-time thermal image, perfect for a wide range of thermal inspections.
Product Features
Measures temperatures in a non-contact mode with an accuracy of +/-1%

Temperature range: from -20˚C to +300˚C

Internal data/video storage

High sensitivity mode: detects even very small amounts of leaking gas

Digital camera and GPS

High-performance LCD and tilt-able high-resolution viewfinder

Lightweight and robust design

Multi-angle handle with integrated direct-access button
Get in Touch
Contact our technical team for all enquiries. Our teams are here to help and ready to provide friendly advice on all aspects of inspection projects.
Get in Touch