If you are looking to purchase the latest, high-quality visual inspection equipment then take a look below at some of the products that we stock, or get in touch with us today to discuss your requirements.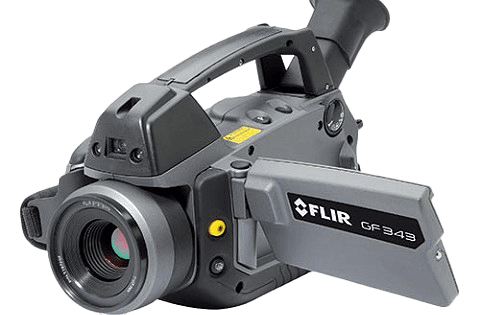 About
Whether CO2 is a byproduct of a production process, a trace gas used to detect leaks from power generators, or as part of an Enhanced Oil Recovery program, fast and accurate detection of CO2 leaks is key to keeping your operation running safely, efficiently, and profitably.
The GF343 visually detects CO2 gas leaks in real time allowing you to localise leaks and verify repairs quickly, easily, and reliably by using CO2 as a trace gas to find leaks or verify repairs of more dangerous gases such as hydrogen.
Product Features
Discover CO2 losses in a variety of industrial manufacturing, transportation, and storage uses

Decrease downtime and save money

Prevent inventory loss

Avert unplanned outages

Allows online inspections so you don't have to take revenue-generating equipment offline for inspection

Stop leaks to save money from lost inventory and regulatory fines

Improve operations safety and protect the environment

Keep facilities safe while working towards a carbon-neutral operation

Improve efficiencies of EOR operations

Stop leaks in carbon capture and storage operations
Get in Touch
Contact our technical team for all enquiries. Our teams are here to help and ready to provide friendly advice on all aspects of inspection projects.
Get in Touch