If you are looking to purchase the latest, high-quality visual inspection equipment then take a look below at some of the products that we stock, or get in touch with us today to discuss your requirements.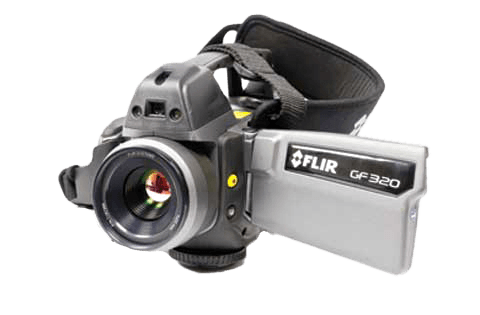 About
The new FLIR GF320 is a revolutionary infrared camera capable of finding methane emissions or other Volatile Organic Compounds (VOC) and is unbeatable for rapidly detecting even the smallest gas leaks in large, hard to reach areas and environments in real-time. The ability to detect leaks before the become a problem not only dramatically reduces repair downtime, but the ability to scan and monitor from a distance improves workplace safety and regulatory compliance, not to mention helping to improve the bottom line by finding leaks that essentially decrease profits.
Detects the following gases: Benzene, Ethanol, Ethylbenzene, Heptane, Hexane, Isoprene, Methanol, MEK, MIBK, Octane, Pentane, 1-Pentene, Toluene, Xylene, Butane, Ethane, Methane, Propane, Ethylene, Propylene.
Product Features
Real-time visualisation of even very small gas leaks

Excellent High Sensitivity Mode

Measures temperatures from -40 °C to +350 °C with ±1 °C accuracy

Built-in Video Recording

Digital Camera

Laser pointer

Embedded GPS Data helps to identify the precise locations of non-compliance

High performance LCD & Tilt-able high resolution viewfinder delivers bright and vivid image in poor lighting environment or under sunlight

Lightweight (2,4 kg) and robust design

User-Inspired Ergonomics: Rotating Handle, Direct Access Buttons Dual use, detects gas leaks and carries out electrical inspections (radiometric image data)
Get in Touch
Contact our technical team for all enquiries. Our teams are here to help and ready to provide friendly advice on all aspects of inspection projects.
Get in Touch