If you are looking to purchase the latest, high-quality visual inspection equipment then take a look below at some of the products that we stock, or get in touch with us today to discuss your requirements.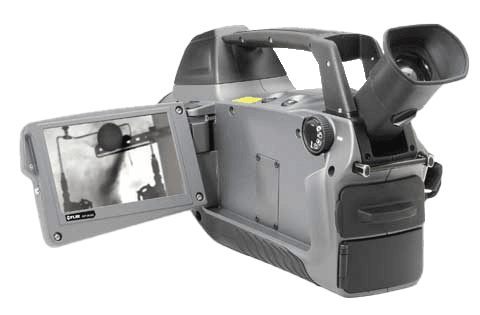 About
FLIR GF306 is an infrared camera capable of finding Sulfur Hexafluoride (SF6), a "greenhouse gas" with an estimated atmospheric lifetime of 3,200 years. FLIR GF306 Infrared Camera visualises gas leaks in real-time and finds SF6 leaks quickly & safely, considerably reducing inspection and potential down time.
FLIR GF306 scans large areas rapidly and pinpoints leaks in real time making it ideal for monitoring plants that are difficult to reach with contact measurement tools. Literally thousands of components can be scanned per shift without the need to interrupt the process, reducing repair downtime and provides verification of the process.
Above all the GF306 is exceptionally safe, allowing potentially dangerous leaks to be monitored from several meters away, significantly improving your work safety, environmental and regulatory compliance, not to mention helping to improve the bottom line by finding leaks that essentially decrease profits.
GF306 etects the following gases: Sulfur Hexafluoride (SF6), Acetyl Chloride, Acetic Acid, Allyl Bromide, Allyl Chloride, Allyl Fluoride, Ammonia (NH3), Bromomethane, Chloride Dioxide, Ethyl Cyanoacrylate, Ethylene, Furan, Hydrazine, Methylsilane, Methyl Ethyl Ketone, Methyl Vinyl Ketone, Propenal, Propene, Tetrahydrofuran, Trichloroethylene, Uranyl Fluoride, Vinyl Chloride, Vinyl Cyanide, Vinyl Ether
Product Features
Trace leaks to their source

Perform safer inspections Internal data/video storage

Digital camera & GPS High performance

LCD & Tilt-able high resolution viewfinder

Multi-angle handle with integrated direct access buttons

Visualises gas leaks in real time
Get in Touch
Contact our technical team for all enquiries. Our teams are here to help and ready to provide friendly advice on all aspects of inspection projects.
Get in Touch