If you are looking to purchase the latest, high-quality visual inspection equipment then take a look below at some of the products that we stock, or get in touch with us today to discuss your requirements.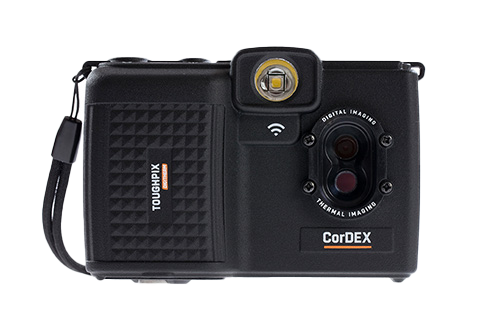 About
You will immediately see if a dangerous and costly gas leak appears. You do not have to rely anymore on periodic inspections. Monitoring is done from a safe distance without the need to send technicians into potentially dangerous areas.
The TOUGHPIX DIGIHERM pocket size digital and thermal imaging camera, compact enough to fit into any work pocket but rugged enough to take the hits, TOUGHPIX DIGITHERM is a go-anywhere camera providing the power and resilience to get the job done. Every time.
Rugged, powerful and with ground-breaking affordability, CorDEX DIGITHERM sets the standard with compact digital imaging cameras. With must-have features including; 5 megapixel visual camera, LED flash, realtime visual/thermal image blending, wireless connectivity, CorDEX DIGITHERM brings a new dimension to the task of finding, documenting and sharing problems.
Tested to extremes every single component in TOUGHPIX DIGITHERM has been selected with one goal in mind, quality that's built to last.From being frozen to -20°C and dropped from a metre, to being blasted with water and dirt as part of industry leading Ingress Protection testing. TOUGHPIX DIGITHERM has been pushed to extremes.
Product Features
ATEX and IECEx Certified

Adaptive thermal blending

5 megapixel digital camera with automatic, motorized focus. Capture high resolution visual images

Ultrabright LED flash Manufactured from lightweight but tough, aircraft grade aluminium

weighs in at less than 400grams

WIFI Download images directly to your tablet or smartphone with the CorDEX CONNECT Mobile app or via an onboard webserver.

Rechargeable removable battery

Powerful LED flash for low light imaging

Using CorDEX EMA, DIGITHERM can measure from -10C to +380C with accuracy up to 2% or 2degrees.

Sleek and rugged compact design

Alarm triggered recording

Soft touch buttons for ease of use

Never run out of memory thanks to the removable CorDEX Memory card

Motorised optical focus
Get in Touch
Contact our technical team for all enquiries. Our teams are here to help and ready to provide friendly advice on all aspects of inspection projects.
Get in Touch