Rent the right tool for the job
Having established an enviable track record as a result of our multi-industry experience, we often draw on the experiences from one industry and apply them in an innovative way in another, along the way setting industry firsts.

Our technicians have extensive experience and qualifications in providing inspection and training services. We offer a wide range of inspection solutions such as visual surveys, NDT, gas emissions surveys, weld inspection, foreign object retrievals, IRIS surveys of Heat Exchangers, ROV/UAV surveys, Thermography, Ultrasonic thickness surveys, PMI, Tank and Vessel Inspections.

Each of our technicians are trained to work at height, either from aerial platforms or scaffolding, or using abseil techniques, allowing us to effectively service otherwise difficult to reach areas.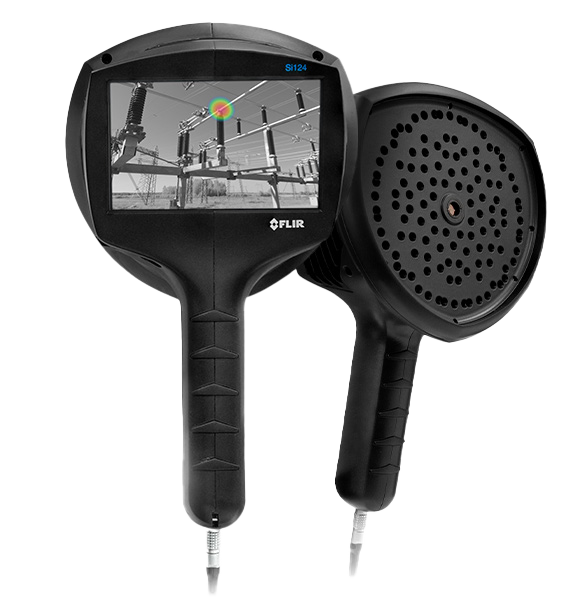 About
The FLIR Si124 is an easy-to-use, stand-alone system for detecting partial discharge problems in high voltage electrical systems. This lightweight, one-handed solution is designed to help maintenance, manufacturing, and engineering professionals identify issues up to 10 times faster than with traditional methods.
Find Partial Discharge Problems Faster
Detect partial discharge and coronas up to 10 times faster with sound imaging vs. traditional methods.
Locate problems precisely, even in loud industrial environments, thanks to high-resolution acoustic images and 124 built-in microphones
Optimise staff time, as minimal training is required to use Si124
View visual and sound images simultaneously
Improve Reliability
Minimise equipment failures and downtime that result from partial discharge issues
Analyse partial discharge pattern and classify problems to improve reliability of electrical systems
Classify partial discharge type, including surface discharge, floating discharge, and discharge into air
Evaluate frequency to determine the type and severity of the discharge, which allows maintenance to be scheduled
Inspect Easily
Locate, analyse, and classify discharge with this convenient, smart tool
Safely detect problems from a distance up to 100 m (328 ft)
Upload, store, and backup data; create reports; and conduct deep analysis using FLIR Acoustic Camera Viewer cloud analytics
View images in the cloud immediately after capture thanks to the automatic upload feature
Operate the lightweight camera with one hand, and easily review images on-screen even in bright, outdoor conditions
Product Features
Size: 5 in, 800 × 480

Color: 24 bit RGB

Brightness: 1000 cd/m2 (adjustable)

Resistive touchscreen





124 low-noise MEMS microphones, real-time sound visualisation

Distance: from 0.3 m (1.0 ft) up to 100 m (328 ft)

Wireless data transfer: Wi-Fi 2.4 GHz and 5 GHz IEEE 802.11.b/g/n/ac wireless LAN

32GB internal storage





Recommended operating and storage temperature range: -10°C to 50°C (14°F to 122°F)

Recommended Operating and storage humidity: 0 to 90%
Get in Touch
Contact our technical team for all enquiries. Our teams are here to help and ready to provide friendly advice on all aspects of inspection projects.
Get in Touch