Rent the right tool for the job
Having established an enviable track record as a result of our multi-industry experience, we often draw on the experiences from one industry and apply them in an innovative way in another, along the way setting industry firsts.

Our technicians have extensive experience and qualifications in providing inspection and training services. We offer a wide range of inspection solutions such as visual surveys, NDT, gas emissions surveys, weld inspection, foreign object retrievals, IRIS surveys of Heat Exchangers, ROV/UAV surveys, Thermography, Ultrasonic thickness surveys, PMI, Tank and Vessel Inspections.

Each of our technicians are trained to work at height, either from aerial platforms or scaffolding, or using abseil techniques, allowing us to effectively service otherwise difficult to reach areas.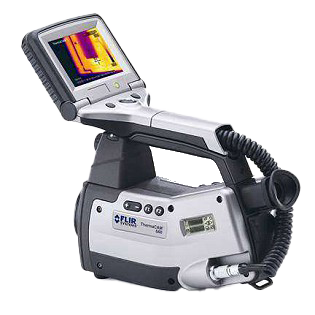 About
A powerful infrared inspection system, ergonomically designed to maximise the efficiency and productivity of the professional thermographer, designed by FLIR Systems… and its customers. Over the last years, more and more predictive maintenance professionals have become aware of the advantages of using infrared cameras in their predictive maintenance programs. As a result, the market for infrared has grown considerably.
As the world leader in infrared camera systems, FLIR Systems has designed and produced the ultimate infrared camera, based on the needs and wishes expressed by its customers.
The result is FLIR Systems' ThermaCAM™ P60: the perfect choice for maintenance professionals who realise that infrared imaging and measurement can save their companies millions each year. The P60 features everything you need to make well-informed maintenance decisions.
temperature range -40°C to +2,000°C

thermal sensitivity 0.08°C

outstanding image quality

precision non-contact temperature measurement

visual and thermal imaging

text and voice annotation

auto-focus

ergonomic, lightweight and portable

wireless communication

high speed image download

fully radiometric JPEG storage

software for professional inspection reporting




Product Features
Field of view/min focus distance: 24°x18° /0.3 m

Spatial resolution (IFOV): 1.3 mrad

Thermal sensitivity: 0.08°C at 30°C

Image frequency: 50/60 Hz non-interlaced





Automatic or manual: Electronic zoom function 2,4,8 interpolating

Detector type: Focal Plane Array (FPA), uncooled microbolometer 320 x 240 pixels

Spectral range: 7.5 to 13µm

Digital image enhancement: Normal and enhanced





Built-in digital video: 640 x 480 pixels, full colour

Video output: RS170 EIA/NTSC or CCIR/PAL composite video and S- video

Viewfinder: Built-in, high-resolution colour LCD (TFT)

External display: 4" LCD with integrated remote control





Removable FLASH-card (128 MB)

Built-in FLASH memory (50 images)





Thermal: Standard JPEG 14 bit measurement data included File formats

Visual: Standard JPEG (including movable marker) linked with corresponding thermal image

Voice annotation of images 30 sec. of digital voice "clip" stored together with the image Text annotation of images

Predefined text selected and stored together with the image
Get in Touch
Contact our technical team for all enquiries. Our teams are here to help and ready to provide friendly advice on all aspects of inspection projects.
Get in Touch